Welcome
Welcome to St. Peter's Catholic Primary
I hope this web site gives you all the information you need about our school and
an insight into the every day events and celebrations of school life.
St. Peter's is a Catholic Voluntary Aided school in the Diocese of Shrewsbury. We
are proud of our Catholic heritage passed onto us by the past generations of
Stalybridge Catholics. We believe we are a community that gives a positive
witness to our Christian faith with Jesus Christ at its centre.
Our school offers a broad and balanced curriculum for our 230 children ranging from
3 to 11 years. We aim to develop each child's potential by nurturing their
spiritual, moral, intellectual, physical, social and emotional needs. We aim
for excellence in all we do.
We try every day to live out our mission statement:
St. Peter's Catholic Primary School is at the
heart of a Christ centered community where every person's uniqueness is
celebrated & truly valued.
We promote caring, supportive relationships
based on mutual respect, and nurture the partnership between home, school and
parish.  When we welcome the child, we
welcome the family. We aim for excellence in all we do
Kind regards
Mrs Elaine M.Summersgill
Head Teacher
Chair of Governors Mr Phil Murphy
*Please note school will provide paper copies of any documents free of charge.
Ascension Day
The whole school walked to Cheetham's Park to celebrate this year's Ascension Day. We also had a minute's silence to remember the victims and families caught up in the tragic event in Manchester.
You can view our release of balloons by clicking here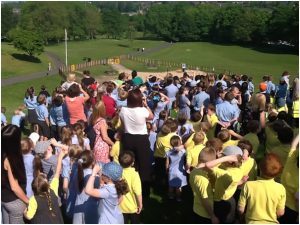 Goodbye Year 6 Leavers 2017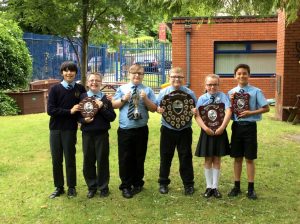 Congratulations, goodbye and good luck to all our Year 6 leavers today and special congratulations to our trophy winners above
Y6 building their K'nex robotics!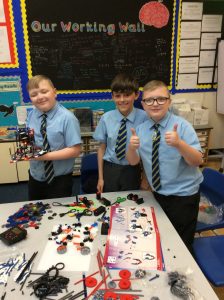 Y5 at the Bridgewater Hall playing with the Halle.